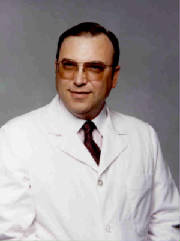 Scientific Background of
Joseph H. Guth, Ph.D., CIH

Founder and President of
Scientific and Forensic Services, Inc.
As a practicing basic and applied research scientist in many aspects of chemistry, biochemistry and physics, as a university professor, analytical and forensic chemical laboratory director, and health/safety professional for over 50 years, my perspective has been honed by a great amount of detailed study, as well as broad range of activities and measurements. I have always endeavored to have a thorough theoretical as well as experimental grounding in any field of work that I entered, but learned early on the value of working with individuals who specialized in each sub-discipline I engaged in. Many client attorneys have found my broad and thorough approach to their case work to be of exceptional value, especially because my simple, plain-spoken, lucid testimony on each subject provides the trier of fact with an intelligible and accurate understanding of the relevant science upon which they must base a legal decision. As a truly independent expert consultant in hundreds of legal cases, I have provided opinions and testimony for both defense and plaintiff sides of civil legal cases, as well as for both defendent and prosecutorial sides in criminal casework.
Qualified Under Frye and Daubert Standards Multiple Times as an Expert Witness in:
CHEMISTRY (Analytical, Environmental, Inorganic, Metallurgical, Organic, Polymer, Biochemistry, Forensic, Atmospheric and Compressed Gases, Nuclear Chemistry, Food and Pharmaceutical Analysis; Water Testing, Industrial Process Troubleshooting)

INDUSTRIAL HYGIENE (Comprehensive Practice, OSHA Compliance, Toxicology, Carcinogen Exposure, Hazardous Exposure Risk Assessment, Exposure Modeling, Asbestos Issues, Lead Poisoning Issues, Pesticide Poisoning, Solvent Exposure, Indoor Air Quality Evaluation, Microbiology, Mold, Physical Stressors, Radiation Exposures, Safety Assessment, Material Safety Data Sheet Development)

MATERIAL SCIENCE (Properties and Strength of Various Materials, such as Metals, Plastics and Other Polymers, Glass, Textiles, Masonry, Construction Materials; Failure Mechanisms of Materials, Product Designs and Safety)

OTHER FIELDS (Labelling and Duty to Warn Issues, Quality Assurance Program Evaluations, Environmental Impact, Industry Standards, State-of-the-Art Issues), Governmental Regulatory Issues, U.S. Environmental Protection Agency Requirements, U.S. Consumer Products Safety Commission Issues, U.S. Food and Drug Administration Issues


(C)Copyrighted 2008 to 2015. Scientific and Forensic Services Inc. All rights reserved.